Regular price
$179.00 USD
Regular price
$199.00 USD
Sale price
$179.00 USD
Unit price
per
Sale
Sold out
Developed to dominate cold Dakota winters, this 12V, 18Ah lithium battery packs a mighty punch in a pocket-sized package. Reengineered in a 12Ah SLA case with 18Ah of LiFePO4 tech, this battery delivers triple the power, half the weight, & quadruple the lifespan of a 12Ah sealed lead acid battery. Offering optimal performance from even minus 20°F, 18Ah capacity offers a full day of juice for high-draw electronics like Garmin fish finders & ice augers. Same capacity as our 10Ah battery but with 80% more power! A drop-in replacement for 12Ah SLA batteries (same size & terminals) but with triple the runtime. LiFePO4 charger required for optimal performance.

Specifications
11 Year Warranty
World beating, best in class, eleven year manufacturer defect warranty.

Capacity

18 Ampere hours. Dakota Lithium batteries provide consistent power for all 18 Amp hours. DL LiFePO4 batteries have a flat voltage curve, which means they have a steady power output as the battery discharges. The power output will not dramatically drop like similar sized SLA batteries, especially in cold temperatures. You get all the juice down to the last drop.

Voltage

12.8V

Energy

216 Watt-hours (Wh)

Terminals

F2 Terminals (spade socket). When used in salt water, or corrosive, environments we recommend applying a small amount of dielectric grease on the blades of each terminal. It helps extend the lifespan.

Size

5.88"L x 3.81"W x 3.88"H Replaces 12Ah 12V SLA Batteries.

Weight

4.55 lbs (2.0Kg). That's 60% lighter than a SLA battery.

Lifecycles (battery lifespan)

Up to 80% capacity for 3,000 cycles in recommended conditions. The typical SLA has 500 cycles. Dakota Lithium batteries last so long that the price per use is a fraction of traditional batteries.
Operating temperature

Ideal for rugged & harsh environments. Much better than SLA or other lithium's. -20°F min, +120°F max optimal operating temps (battery performs well down to -20°F). Avoid charging below 32°F.
Discharge

18A max continuous, 50A max pulse (<3 sec). The flat discharge voltage curve provides a 75% bigger capacity than a SLA 18Ah battery. Please note: For small trolling motors <20 lbs of thrust, we recommend using two of these batteries in parallel to create a 36 Amp continuous discharge rate and 36Ah of capacity. This increases runtime and lifespan of the battery.
Charge

9A max, 14.4V recommended, 15V max. Please note: this battery should be charged using a LiFePO4 compatible charger. A SLA charger may work, but will reduce performance and lifespan of the battery.
Includes active BMS protection

Contains a circuit that handles cell balancing, low voltage cutoff, high voltage cutoff, short circuit protection and high temperature protection for increased performance and longer life.
Series or Parallel

BMS can support wiring these batteries in series or parallel for up to 4 units (up to 48V series or to 12V 72Ah parallel)
Certifications

All batteries are UN38 certified. Dakota Lithium's cells are UL1642 certified and have been tested per IEC62133 standards. Meets all US & International regulations for air, ground, and train transport.
ISO 9001:2015

Dakota Lithium is ISO Certified per 9001:2015 standards, and select models are produced in ISO 14001 certified facilities.
Charger Sold Separately

This battery should be charged using a LiFePO4 compatible charger. Dakota Lithium 12V batteries should be charged at 14.4 volts, higher than AGM or lead acid. Lead acid chargers will work, but will only charge the battery to 80% of capacity.

The YAKWORKS Guarantee

We offer a 30-Day No Questions Asked Return Policy. Read More
Share
View full details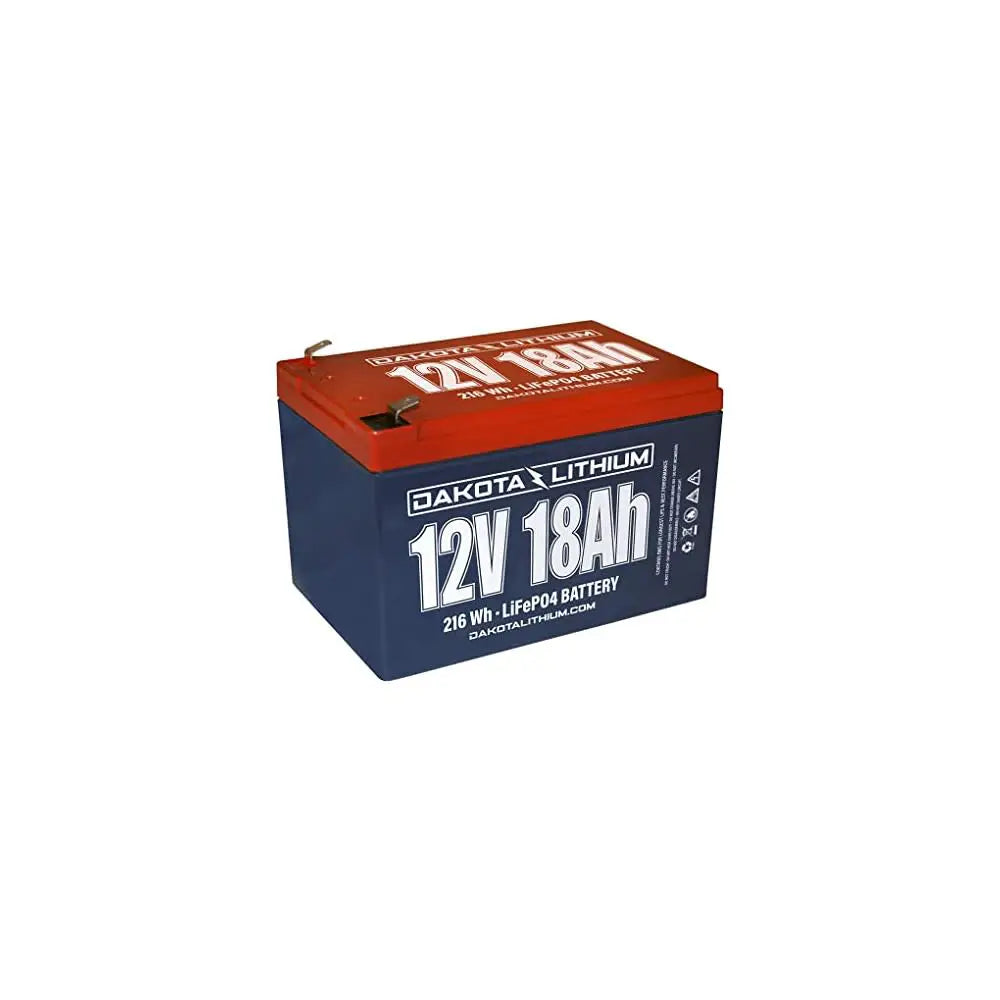 *Free & Paid Shipping Options

We are able to offer free shipping on most orders over $50.00 except kayaks and some oversized items.
Oversized items will be charged shipping based on the required box size, weight and destination zip code.
Kayaks are no longer available for shipping.

Order Processing Time

We typically ship within one business day and try to ship the same day for orders that are placed before noon Tuesday-Saturday.
Orders will not ship out on national holidays if carriers are not operating.
We will notify you if we are experiencing extended processing times.